Technology
is our passion

.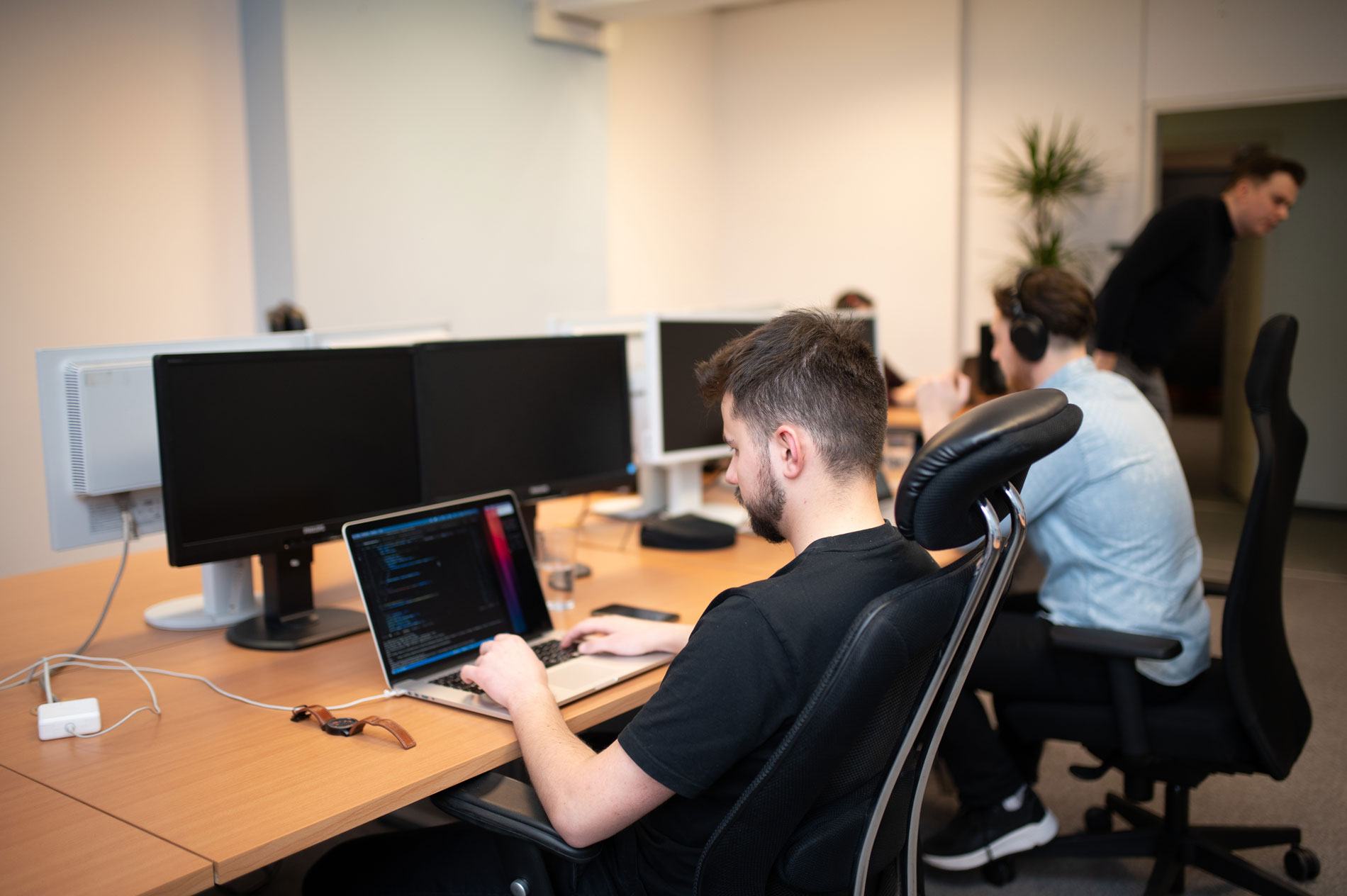 20
Board game enthusiasts on the team
50

+
Completed integration events
Our
Team Leaders
A new technology enthusiast motivated to work by the constant possibility of solving problems and implementing exciting solutions. He gained his knowledge mainly through self-study, starting with WinAPI apps, then applications and 2D games on sprites using Delphi. He enjoys working on projects where there is freedom of technology choice and fast work is not required, which results in a low technological debt. After hours, a fan of computer and board games, good popular science books and movies: science fiction, drama, and thriller.

Jakub

Senior Ruby on Rails

For Jakub, programming is a creative job because it combines the process of creation with a consistent engineering approach to a problem. He decided to work in IT because he enjoys creating something that works. He has over 13 years of experience, which he gained in many companies, working on a mass of various projects. He appreciates working at AKRA for its stability, ability to change projects, consistent sustainability, and timely payments. He values two things in projects: the people he works with and good work organization. After hours - a man of many passions: he trains sword fighting, rides horses, reconstructs the early Middle Ages, creates and plays games (both digital and analog), watches movies, and reads books.

Jakub

Senior Ruby on Rails

His IT adventure began with a Basic programming book for a Commodore 64 computer, exactly the kind of computer he got for communion. After creating a few games based on sprites, he wanted to become a programmer. He enjoys continuous development and challenging projects - especially those where you can learn the most. When it comes to programming, there are no impossible things for him. He always (as far as possible) tries to take on the most difficult tasks. In his free time, he reads comic books for adults. His favorite writers are Alan Moore and Jean Van Hamme. He also plays board and computer games.

Maks

Senior Ruby on Rails

He decided to become a programmer because he loved playing games in primary school. Since programming is a job that allows you to be in front of the computer most of the day, he found it to be the perfect job for him. He is not afraid of new challenges and hates complaining that something can't be done. For him, there is no code that he will not write. In projects, he appreciates the freedom of action and the ability to choose technology; at AKRA, he most appreciates the freedom in everyday work, the ability to work remotely, a friendly atmosphere, and mutual assistance from every direction. He is a faithful Harry Potter fan who devotes all his free time to his children.

Tomek

Senior Ruby on Rails

His adventure with programming started with creating games. Today he does it mainly as a hobby. He is motivated to work in IT by the possibility of solving real problems of ordinary people and creating technological solutions that make everyday life easier. For over five years, he has been professionally connected with AKRA, in which he values most great people, atmosphere, mutual help, and sharing common passions. An advocate of good programming practices, such as pair programming and TDD. After work, he enjoys reading books (especially fantasy), playing computer games, and shooting sports. He also likes to travel and recently started driving go-karts with his friends.

Tomek

Senior Ruby on Rails

In Patrick's life, computers have always been present. The only thing that has changed is what he uses them. As he got older, he switched from gaming to programming. He is motivated to work in IT because of his desire to gain knowledge and create valuable solutions. He especially likes projects that give opportunities to test new solutions and those where he can take part in preparing the infrastructure. In his day-to-day work, he always tries to pay attention to details and analyze possible problems (even before they appear). He has been a faithful Gothic fan for years, and if he had to choose one game to play for the rest of his life, it would undoubtedly be that. According to him, the most significant advantage of working at Akra is a good team, which influences the creation of excellent software.
Our strength is our people
We share a passion for new technologies and a desire for continuous development. We are a good team that is always open to new challenges.
Join us and find out how enjoyable it can be to work in AKRA
Work with us